Et j'ai reçu mon exemplaire !
Je l'avais évidemment précommandé il y a 3 mois et j'attendais impatiemment son arrivée. J'en avais aussi profité pour prendre le T-shirt qui va avec, et je ne suis pas déçu du rendu de l'impression ! Après, pour ce qui est du dessin en lui-même, chacun ses goûts,mais je dois dire que je préférais quand même la cover de Deus Ex Machinae et même Overworld à celui-là... qui, allez je l'avoue, fait un peu trop Twilight-like à mon goût (que je sois damné par les dieux du SID-metal).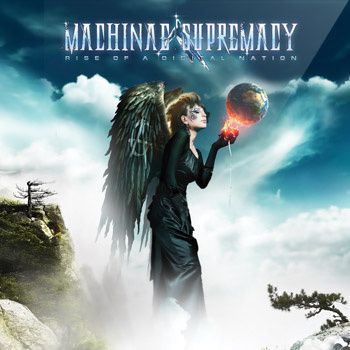 Don't judge a book by its cover, dit le sage. Neither a music album, dit le fan inconditionnel.
Alors qu'avons-nous ici, deux ans après la sortie de A View From The End Of The World ? Une dizaine de titres qui poursuivent simplement l'évolution du style de MaSu dans ce précédent album. Les sonorités SID peinent parfois à s'imposer et c'est bien dommage, l'auto-tune est privilégié pour rendre la voix plus old(-school)-game, mais on retrouve malgré tout la patte du groupe dans l'enrobage bien metal, la batterie très énergique et les quelques riffs qui inciteront à appuyer sur la touche "repeat" du lecteur pour bien en apprécier les nuances.
Je ne vais pas plus loin, en profane de la musique que je suis, cela me serait difficile. Je terminerai juste en disant que l'on s'éloigne ici encore un peu des origines mais le groupe sait faire évoluer son style avec maîtrise, sans jamais tourner en rond.
Petite exception, la dernière piste "Hero" est un réenregistrement de la première piste de l'album Origin qui fait désormais partie de la webographie et dont le contenu avait été mis en téléchargement gratuit par le groupe à ses débuts voilà plus de 10 ans ! Ces albums sont d'ailleurs toujours en téléchargement gratuit pour le plus grand plaisir des fans, preuve que le groupe n'a pas changé d'orientation après tant d'années.
Pour écouter l'intégralité de l'album en ligne (oui, l'intégralité !), c'est ici !
Et pour le commander, c'est sur la boutique MadSupply de Machinae Supremacy.